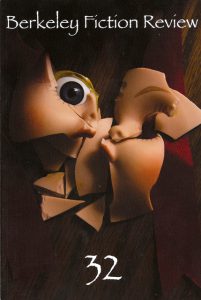 LOVE the newest issue of Berkeley Fiction Review! OK, I'm biased. Berkeley 32 begins with "Legacy," a parable I wrote about the seduction of a destructive family tradition. But my story is just the start of a haunting collection.
In "The Orchard Spider," writer Martin Slag fractures language to take us inside a disturbed mind. "Billions of Ways" by Elizabeth O'Brien plays with with words to capture an amusing point of view. Winning first place in the Sudden Fiction category, "Permeable" by Erin Popelka combines scientific detachment with painful humanity.
And then there's the cover photo by Josh Downey: This, I think, will give me nightmares.