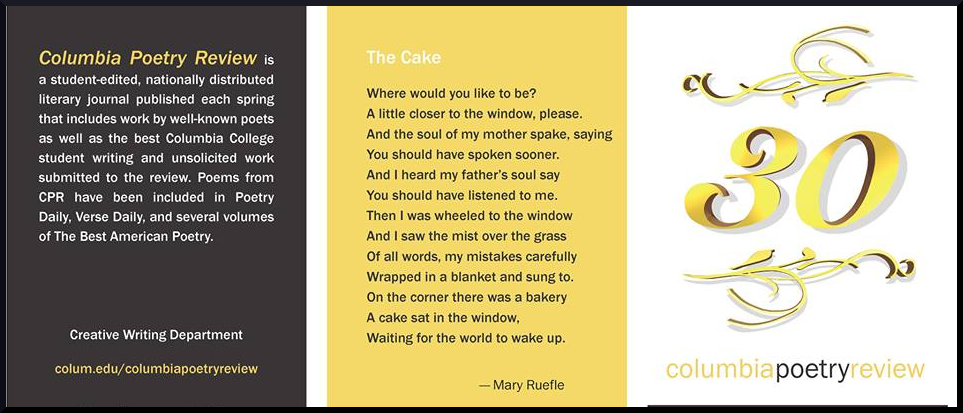 Happy birthday and congratulations to Columbia Poetry Review.  The elegant 30th anniversary issue includes work by new writers alongside favorites from past contributors, including Elizabeth Alexander, Denise Duhamel, Kimiko Hahn, and this poem by Mary Ruefle…
The Cake

Where would you like to be?
A little closer to the window, please.
And the soul of my mother spake, saying
You should have spoken sooner.
And I heard my father's soul say
You should have listened to me.
Then I was wheeled to the window
And I saw the mist over the grass
Of all words, my mistakes carefully
Wrapped in a blanket and sung to.
On the corner there was a bakery
A cake sat in the window,
Waiting for the world to wake up.
~ Mary Ruefle, Columbia Poetry Review
The poems in this issue stand on their own, without biographical notes. It's as though the journal is saying, We're all in this together, every voice meaningful and important.  I'm honored to have two poems included.
Columbia Poetry Review is published annually by the Department of Creative Writing at Columbia College Chicago.  Purchase an issue or subscribe:  Columbia Poetry Review ⇒