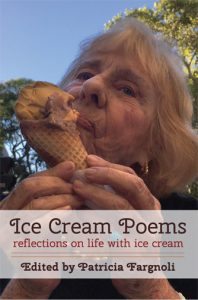 Yes! Just in time for summer, a tasty anthology of poems by some of the coolest writers I know. I'm delighted to join Barbara Crooker, Lori Desrosiers, Laura Foley, Michael Meyerhofer, and other favorites in Ice Cream Poems: Reflections on Life with Ice Cream. Published by World Enough Writers, an imprint of Concrete Wolf, the anthology is edited by poet Patricia Farnoli, who selected work from 27 states and six countries.
My poem is the one with the title that takes up three lines: "Postcards I Wish I'd Sent Lisbeth When We Were Girls and Her Parents Sent Her Away." Cast in the form of imaginary postcards from the 1960s, the poem began in response to Twenty Little Poetry Projects, a widely-circulated exercise by Jim Simmerman. The "projects" challenged poets to use synesthesia, be preposterous, and choose unlikely metaphors. I changed the rules as I revised, but loved the wacky, improbable narrative that came from Simmerman's exercise. Left to my own devices, I'm not sure I would have thought of lines like "her voice is sugar rough" and "You melt over the rim of my frosted cone."
"Postcards I Wish I'd Sent" was originally published in the 2015 issue (vol. 12) of The Fourth River.
Find Ice Cream Poems on Amazon, the World Enough Writers website, and elsewhere.