Every winter, my stepfather and I used to ride the Amtrak Auto Train from Lorton, Virginia to Sanford, Florida. This was an eerie 17-hour journey through darkened towns and muddled dreams. Arriving at dawn, we opened our blinds to see a watery landscape shimmering through the mist.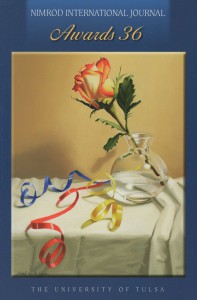 The night he died, I imagined us still on that train. I remember hushed voices, beeping monitors, and flickering lights. At 2am, orderlies burst in to announce that another patient needed his bed. They lifted my stepfather onto a gurney and rolled him through echoing corridors. I walked alongside, chanting train ride, train ride. Wheels squealed against linoleum. He died on the gurney, halfway to his new room. If there's a heaven, I think it's in Florida, and he is there.
I sent outraged letters to Fairfax Hospital. Why move a dying man out of intensive care? Why send him into a hallway to die? Of course, there were no satisfactory answers. The best I could do is write a poem.
Many thanks go to Barbara Ungar, who taught the poetry workshop that showed me how. I'm so pleased that my poem "Southbound" has been included in the Fall/Winter 2014 edition of Nimrod International Journal. This is a gorgeous magazine featuring splendid writers. Find Nimrod vol. 58, no. 1 in literary bookstores or order it online.