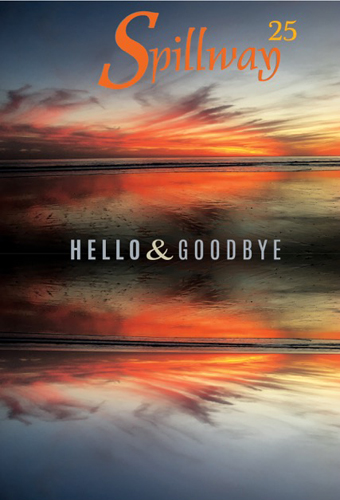 Susan Terris says she selected "the most surprising poems I could find" for Spillway, volume 25. After seven years as editor, Terris is moving on, and the theme for this issue is, appropriately, "Hello & Goodbye." The 165-page journal packs in some of my favorite poets—Jane Hirshfield, Rusty Morrison, Ilya Kaminsky, Andrea Hollander, David St. John, Joan Murray … really, too many to list here.
I'm astonished to be included. Soon after I submitted, I had second thoughts about my poem, "Imposter." Something about the tone felt off. I brought the poem to a workshop with Marge Piercy, and she didn't mince words: "I don't like the narrator."
Marge Piercy writes earthy, accessible poems that strike an emotional chord for a wide readership. My poem evoked a narrator who did not, or could not, express grief over the death of her husband. "Why would anyone want to read about such an unlikable woman?" Piercy asked me.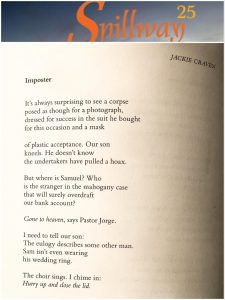 After the workshop, and after the poem had already appeared in Spillway, I plunged into revisions. I've softened the narrator somewhat, but she's still emotionally numb. Does she need more warmth, more humanity? I don't know. I need to set her aside and give her more time.
"Imposter" appears on page 68 of Spillway 25, published in 2017. I'm honored that Susan Terris placed her own beautifully mysterious poem, "Power of the Dare," on the same page.  To purchase a copy, visit the webpage for Spillway 25.