Honored to appear with poet Lyn Lifshin in Lummox 2, a sweeping anthology that explores the concept of PLACE.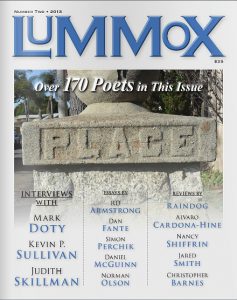 I wrote about architecture (read my poem "Georgian Colonial"), but place is about so much more than a building or a GPS coordinate. Editor RD Armstrong deserves a trophy for putting together this diverse and provocative collection, which includes interviews, essays, reviews, and the work of more than 170 poets.
You can order Lummox 2
from Amazon.com and other booksellers.