Burrowed beneath an electric blanket,
I dream my mother young—
I hear her in the steam
that rises from pinging radiators…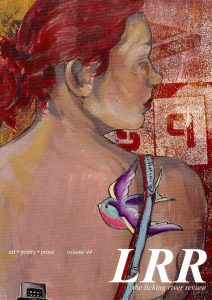 When I wrote this poem about time and winter confusion, I had a foggy picture in my mind. Somehow artist Nicci Mechler captured my mood in her lush cover art for volume 44 of The Licking River Review.
The journal from Northern Kentucky University includes my poem along with a wonderful collection of works by Nicci and other artists and writers.