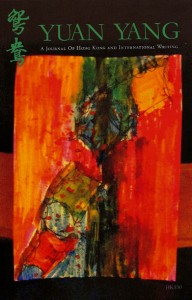 A travel-worn package with exotic stamps landed on my porch this week. Inside: Yuan Yang, a jewel of a literary journal from The University of Hong Kong.
In Cantonese, the word yuanyang refers to a mated pair of Mandarin ducks. The phrase also describes a coffee-and-tea mixture or, more philosophically, a pleasing partnership between dissimilar items. The content of Yuan Yang journal truly is eclectic. My story "Strange Sunset" shares happy company with works by writers from far away places like Hawai'i, England, Nigeria, and, of course, Hong Kong. I was especially delighted to find a collection of poems by the prize-winning Kit Fan. His commentary along with a draft version of the title poem from Paper Scissors Stone
gives readers a peek inside Kit Fan's creative process.
The lush cover art (shown here) is by Ali Wisch.