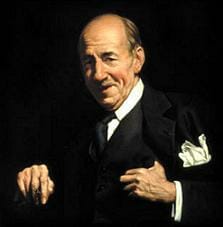 French painter and scholar Jacques Maroger (1884-1962) believed that Rubens, Van Eyck, and other early artists had developed versatile oil-based mediums that enhanced the color and luminosity of their paintings. The mediums, he said, allowed artists to apply colors in nearly transparent glazes, achieving amazing depth and trompe l'oeil illusions. Working as Technical Director of the Louvre Laboratory, Maroger analyzed historic paints and tried to recreate the long-lost recipes. He later taught at the Maryland Institute in Baltimore, where he inspired a generation of students to grind colors and mix paint mediums according to historic formulas.
Made with black oil, mastic varnish, and lead, Maroger's painting mediums were temperamental. Incorrect preparation hastened deterioration of the paint. Some critics said that Maroger's research was flawed and that using the mediums would darken colors. However, painters who rebelled against the abstract expressionism of the day were drawn to Maroger's call for a return to realism.
Maroger's research and the formulas he claimed to have rediscovered are documented in The Secret Formulas and Techniques of the Masters by Jacques Maroger (translated by Eleanor Beckham, Studio Publications, 1948). Factory-made mediums based on Maroger's recipes can be purchased at art supply stores and online.
During the 1950s, artist Louise Craven Hourrigan studied Maroger's methods and experimented with his formulas, sometimes with disastrous and comical outcomes. She soon moved on to other styles, but Maroger's theories and misadventures with realism inspired many of the poems in Jackie Craven's collection, Secret Formulas & Techniques of the Masters.
Share this page