ORDER FROM BRICK ROAD POETRY PRESS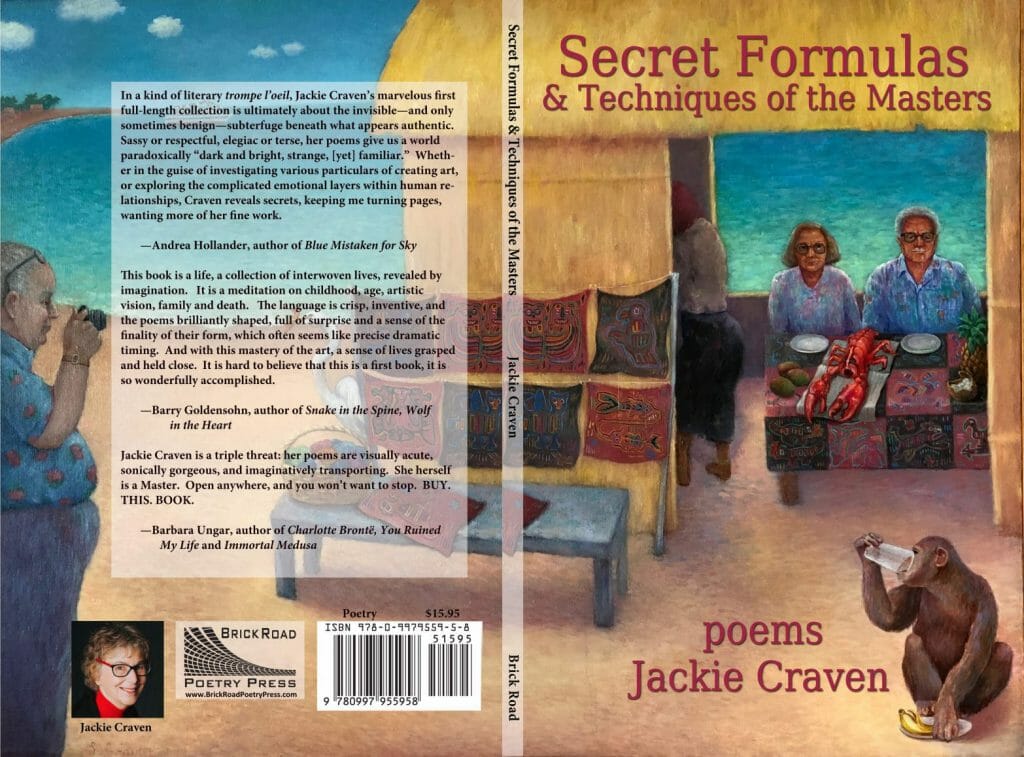 Through narrative and ekphrastic poems, Secret Formulas & Techniques of the Masters weaves a surreal tale. A writer searches for hidden messages in her mother's paintings. Characters step from the frames. An elusive sister speaks colors instead of words and a painted monkey offers comical wisdom. Poet Jackie Craven draws inspiration from a classic text by artist Jacques Maroger, who claimed to have rediscovered long-lost formulas for creating the illusion of reality.
"Open anywhere, and you won't want to stop," says poet Barbara Ungar.
Poems from this Brick Road Poetry Press collection have appeared in The Asheville Poetry Review, Chautauqua, Mid-American Review, New Ohio Review, Nimrod International Journal, Pembroke Magazine, Pilgrimage Magazine, Quiddity, r.kv.r.y. quarterly, Stone Canoe Journal, Water~Stone Review, and several anthologies.
108 pages | 6 x9
Reviews & Interviews
Learn More
Buy Secret Formulas
Praise
"In a kind of literary trompe l'oeil, Jackie Craven's marvelous first full-length collection is ultimately about the invisible—and only sometimes benign—subterfuge beneath what appears authentic. Sassy or respectful, elegiac or terse, her poems give us a world paradoxically 'dark and bright, strange, [yet] familiar.'  Whether in the guise of investigating various particulars of creating art, or exploring the complicated emotional layers within human relationships, Craven reveals secrets, keeping me turning pages, wanting more of her fine work."  

—Andrea Hollander, author of Blue Mistaken for Sky
"This book is a life, a collection of interwoven lives, revealed by imagination.   It is a meditation on childhood, age, artistic vision, family and death.  The language is crisp, inventive, and the poems brilliantly shaped, full of surprise and a sense of the finality of their form, which often seems like precise dramatic timing.  And with this mastery of the art, a sense of lives grasped and held close.  It is hard to believe that this is a first book, it is so wonderfully accomplished."  

—Barry Goldensohn, author of Snake in the Spine, Wolf in the Heart
"Jackie Craven is a triple threat: her poems are visually acute, sonically gorgeous, and imaginatively transporting.  She herself is a Master.  Open anywhere, and you won't want to stop.  BUY. THIS. BOOK."  

—Barbara Ungar, author of Charlotte Brontë, You Ruined My Life and Immortal Medusa
---

---
SHARE THIS PAGE