Tourists seek enlightenment in land of Merlin lore
In an upstairs bedroom of a lighthouse on the breezy southern shore of Wales, an astrologer pronounced me "psychic."
With a toss of her platinum hair, she tapped my computer-generated natal chart and declared, "Jupiter in your twelfth house." Then, in the high, lilting accent peculiar to the Welsh, she said, "You must pursue this."
Photo: Carreg Samson, West of Abercastle, Pembrokeshire ©PCNPA, VisitWales.com
Constructed in the nineteenth century, the lighthouse in West Usk is now a wedding venue. But during our visit, it served as a combination B & B and New Age healing center. I learned about my destiny while my friends had their feet examined by a reflexologist, their spirits lifted by an aroma therapist, and their energies explained by a kinesiologist. Some even spent a solitary hour bobbing in a saline solution in a lightless flotation chamber. Then we clamored down the spiral staircase to the Victorian parlor, where we sipped our afternoon tea.
We thought it strange to find this kind of metaphysical smorgasbord in the rolling green Welsh countryside.

PHOTO: West Usk Lighthouse
Folks here seemed to live simple, homespun lives, eating hearty breakfasts of sausages and laver (seaweed) bread and taking brisk walks in sensible shoes. Faced with the harsh realities of farming, and grim memories of the not-too-distant past when coal mines tunneled beneath the hills, who had time to think about biorhythms or clairvoyance?
When we stepped outside, our laughter faded into wonderment. The moody sky had darkened and a full moon hung low over the boggy banks of the Severn Estuary at low tide. Two cows in the lighthouse yard let out eerie moos. I remembered the astrologer's words with a shiver.
Some say that in Wales, the veil between worlds is thin. According to legend, this is a land where castles rise and sink with the tides, green people haunt shaded ponds, white-robed Druids chant beneath ancient yew trees, and prehistoric monoliths wake up and dance in the moonlight. This is the land that fell under the spell Merlin.
For the next six days, my friends and I chased after that magic, following the trail of the storybook wizard through cobbled towns and meadows ablaze with yellow gorse. We went to Carmarthen, where some say Merlin was born. (Its Welsh name, Caerfyrddin, means "Merlin's Town.") From there, it was a short ride to Dinefwr Park, which lies in the shadow of a ruined medieval castle and a mound where Merlin is supposedly buried.
Then, at Carreg Cennan, we climbed a steep, sheep-studded hill to the rubbled remains of another castle—this one reputedly built over a fortress held by King Arthur's knights. Heading south to Cardiff, we pressed our noses to the bus windows to see the mountain where some say Arthur is buried. And in Caerleon, we stood in the pouring rain in a Roman amphitheater which locals claim served as one of Arthur's three courts.
"There is a lot of pure energy in Wales," said Ann Cowie, who leads walking tours to ancient spiritual sites. We sat on benches in the snack bar of Carreg Cennen Castle, still shivering from our hike through the wind-whipped ruins. Warming her fingers on a steaming bowl of vegetable cawl, Cowie explained that there are remote corners of Wales still untouched by human civilization. The trees there are descended from the same trees that grew thousands of years before. Go there, Cowie said, and you commune with "gaia"—mother earth. Meditate there, and you travel to "annwm" — a mystical alternative universe. And when you come out, "you feel different."
"Where are these places?" I wanted to know.
"I can't tell you." These solitary spots are not meant for busloads of eager tourists, she gently explained. "It's necessary to honor sacred places on earth," she said.
But my friends and I were determined to see something secret, so asked our bus driver to take us into the Black Mountains to the secluded lake, Llyn y Fan Fach. Legend has it that a magical lady rose from those still waters, married a local farmer, and gave birth to earthling sons gifted with the power to heal. The lady returned to the lake, taking the farm animals with her, but the sons remained. Some say they became the medieval Physicians of Myddfai, celebrated throughout Wales for their magical cures.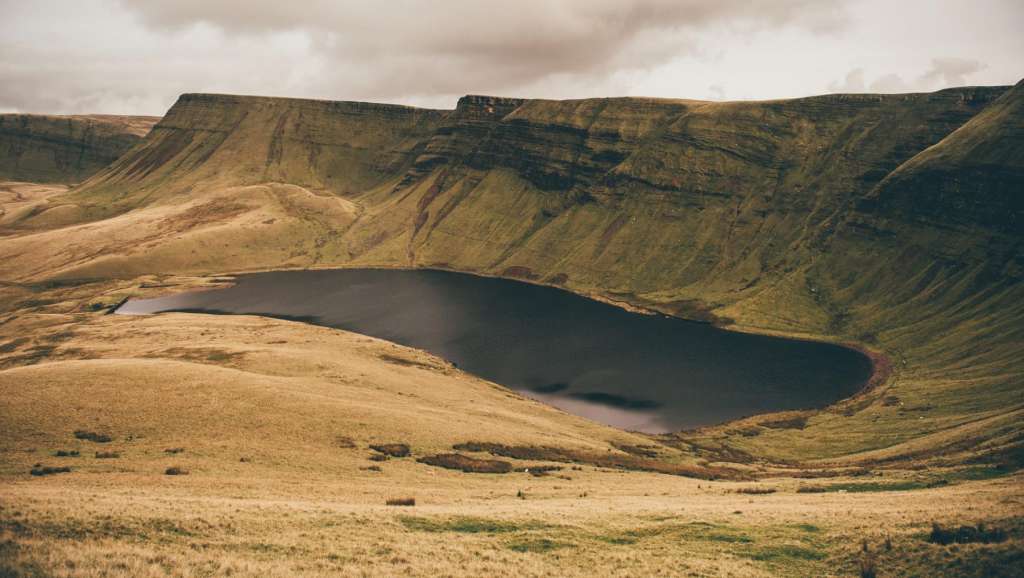 "Nay," our driver protested with a vigorous shake of his head. The road to the lake was too narrow and muddy to navigate by bus. We might take a car or a Landrover part of the way, but the day was so foggy, surely the water would be shrouded in mist. "What would you see?"
So we abandoned the idea and journeyed instead to the mystical village of Myddfai. From the hilltop graveyard, we could see three roads winding past narrow stucco houses. On one of the roads, a boy on a bicycle careened soundlessly out toward the vast green stretch of fields.
Our guide for the day, Roger Worsley, was a physicist turned archeologist. Swinging his flat black briefcase, he scurried along the perimeter of the graveyard, exclaiming, "Come, come! I must show you!"
The chapel, he said, appeared to sit in the midst of a prehistoric sacred circle — a Stonehenge-like formation of standing stones, erected for reasons we can only guess at. The ancient stones were missing, but in their place was a lopsided graveyard wall. Like all of the sacred circles scattered throughout the British Isles, this one was not perfectly round, but deliberately squashed to make the circumference equal three, instead of pi. At this very moment, Worsley said, we were probably standing on a ley line.
A ley line is like an underground electrical cable connecting places said to be sacred. The mysterious indentations are often invisible to the naked eye, but dowsers find them, and airline pilots spot them. Perhaps, some archeologists say, ley lines are channels for energy which flows from the prehistoric standing stones of Great Britain. Perhaps this is why the builders of Stonehenge and many other sacred circles used a special kind of rock — blue stone, found only in Pembrokeshire, in western Wales.
Abruptly, Worsley dropped to his knees in the grass. He flipped open his briefcase to reveal papers filled with circles, lines, and mathematical calculations which proved (he said) that standing stones and ley lines formed complex but logical patterns. "We've gotten too smug," he said. "We've forgotten that people with no computers, calculators, slide rules, or abacuses still had brains."
Then he snapped his briefcase shut and bounded off to pick mushrooms.
The next day, I saw my first standing stone.
We had gone into the Brecon Beacons, riding a Landrover up nearly perpendicular hills into the highest peaks in southern Wales. Wild ponies watched us from meadows carpeted with bracken. Far below, a jewel-like lake glittered in the cleavage between the mountains. Up ahead, the solitary monolith loomed in a field of windswept grass.
The Landrover stopped, and we scrambled over a wooden fence and approached. This was not Pembrokeshire blue stone, but a rosy sandstone — twelve feet tall, four or five thousand years old, and spotted with moss and lichen. The moment I pressed my palms against the cold, rough surface, I felt a shock. Despite its hard appearance, the stone seemed to be breathing.
My friends watched with indulgent smiles as I stretched my arms across it (the stone was wider than my embrace) and let myself feel that ancient electricity. I thought again of the astrologer at the lighthouse. In the profound silence of the mountain, I imagined I could hear her say, "You must pursue this."
It began to rain. We climbed back into the Landrover and headed up a road the color of dried blood to the limestone quarries. Frightened sheep kicked up their heels and scattered across the plain.
On a day that was dark and foreboding, I went to dinner with a local who offered some of his own predictions for Wales. Picking at his meal — a nouveau-Welsh preparation of lamb nuggets sprinkled with vegetables chopped to confetti — he grumbled that European sensibilities were washing into the country. Wealthy vacationers were turning farm houses into summer homes. Guides were "pandering to the fantasies of tourists," "distorting history," and selling transcendence like T-shirts. Before long, he said, busses would clog the sleepy rural roads, and small villages would be over taken by tourist "tick-tack."
Even the cheeses, which arrived artfully arranged on a silver tray, showed foreign influences. "Not good, hard Welsh cheeses," he scoffed. And he left me with a disturbing question: How much longer could a tiny country, joined to England at the hip, hold onto its own customs and language?
But these gloomy prophesies were merely speculations. Although there has been a flurry of tourist activity in cities along the northern and southern shores, Celtic traditions hold fast in the isolated and profoundly serene countryside. As I continued on my journey, following winding roads through villages with long, unpronounceable names, I continued to feel a deep vibration, like an undertow.
I felt it in Dyffryn Ardudwy, when I touched the shoulder-high standing stone at the Neolithic burial chamber, built 3,000 to 1,900 BC. I felt it in Penpont, when I came upon a century-old fairy circle of rough-hewn chairs tucked in a misted grove. I even felt it in Llanrwrst, where modern-day Druids built an imitation stone circle to commemorate their annual Eisteddfod festival. Now that my inner wizard was awakened, I was finding electricity everywhere, like a glistening vein of coal.
---

---
Story originally published in the Providence Sunday Journal.
SHARE THIS PAGE