When my editor asked me to check out castles in Belgium, I conjured images of opulent palaces and imposing châteaux. Instead I found something better.
Above: Château de Waleffe, Belgium. Photo Jean-Pol GRANDMONT
In Belgium—as in much of northern Europe—"castles" are often large but homey buildings with tidy square towers, plump furnishings, and folksy nobility who welcome guests with cheery warmth.
Hard white stone in Belgium's French-speaking region, the Ardennes, gave rise to hundreds of these cozy castles. Some villages boast several, built in the 11th and 12th centuries to protect the growing population from invading armies.
Most of the original castles fell to ruins, but new residences were built atop the medieval foundations and now more than 160 are open for tours, dining, or overnight stays.
Joining a motorcoach tour in Brussels, I headed south, meandering past the historic sites of Namur and Bastogne, looping through the nature center at Botrange, and stopping at three castle hotels:
Three Castle Hotels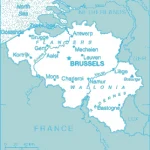 Château de Ramezee
Château de Jannée
Château de Waleffe
As the owners invited us inside, we marveled at just how much we felt at home. These so-called castles were places where we could kick off our shoes, suck the froth off a sweet red beer, and tell bawdy stories without offending anyone very much.
Within a few hours, our tour group became members of the family, party to cheerful gossip and secrets told with such humor and ease we quickly forgot that our hosts came from families far loftier and wealthier than our own. And when things went amiss—a plugged toilet, for example—the person going at it with a plunger was, as often as not, a count, a marquis, or a baroness.
~:~
Le Château de Ramezee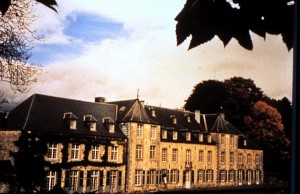 When we arrived at Ramezee Castle, our hosts, Robert Borel de Bitche and his British wife Anne, were all a fluster. The monsieur paced the tiled foyer, holding black rubber boots under one arm. He was, he explained, eager to welcome us, but anxious to get to the stables. The horses had been neglected all day.
Pressing her hands to flushed cheeks, Anne Borel de Bitche apologized. A wedding party of forty-eight had just departed two hours before. "We rushed around cleaning for you."
Then, as we stomped mud from our shoes, she fluttered about saying dear, dear, you must be exhausted, and scolded the monsieur Borel de Bitche to fetch our luggage.
"I know every piece of plumbing in the place because I do the fixing." ~ Madame Borel de Bitche
I never expected to find such ingenuous and folksy hospitality at the Ramezee Castle, where mahogany stairs climb halfway to heaven and fireplaces are large enough to park a mid-sized automobile.
But after all, this was Belgium—a perky, unpretentious country that wasn't officially a country at all until 1830. For a thousand years, this tiny territory, not much bigger than Maryland, lived under the rule of other kingdoms, picking up an odd medley of languages and traditions—and developing idiosyncrasies of its own.
One day in the stables, as they crooned to the nervous horses, our hosts began to first of several surprising revelations…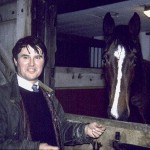 They hadn't planned to become castle keepers.
Robert Borel de Bitche had been a linguist, teaching in Sydney, Australia and researching aboriginal languages. Anne Borel de Bitche was a botanist, studying the pharmaceutical uses of Australian plants. Then came a phone call—news of trouble back home in Belgium.
A family member had "lived the grand life a bit too much." The antique furnishings were auctioned, the roof leaked, the walls were black with dirt.
Suddenly the two scholars found themselves living in Ramezee, struggling to rescue the family castle.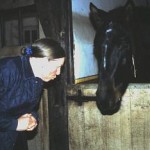 It's a difficult thing, running a castle.
The men and women who inherit these immense buildings often find that they can't pay the taxes or costs of upkeep. So the nouveau nobility make compromises.Some open restaurants, some take in overnight guests, and some set up gift shops where they sell mugs and mouse pads. Many castle-keepers open their doors only for seminars and weddings, while others offer tours, charging so much a bus-load.
Robert and Anne Borel de Bitche became convinced that "some sites are sacred." They decided to open their castle only for visitors who are sensitive to ecological causes. The Ramezee game forest would never become a playground for hunters. The otters would be protected.
Hotel Château de Ramezee
5370 Barvaux-en-Condroz bei Havelange, Belgium
~:~
Le Château de Jannée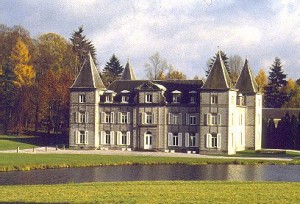 Monsieur Charles de Woot de Trixhe de Jannée lives a stone's throw down the winding road from Ramezee castle. Unlike his neighbors, Monsieur de Woot doesn't personally take on the manual labor of castle restoration. Trained as a banker, he focuses on the business end of things, and he's made quite a success of his father's lakeside estate, le Château de Jannée.
Built atop a 12th century stronghold, most of the Jannée castle dates from the 17th and 19th centuries. In the main building, corridors lined with antlers and stuffed deer heads lead to rooms with faded wallpapers and plush, high beds. Nearby, a new wing offers modern guest rooms decorated to look old. An out building has been converted into a cafeteria and souvenir shop.
One night the de Woots invited our tour group to an intimate dinner and we found the banquet hall surprisingly cozy with flickering candles and cheery murals of hunting scenes. A shaggy sand-colored terrier—exhausted from the day's hunt—begged for table scraps and, when denied, loped off to the adjoining parlor and flopped dejectedly before the fire.
The hunt, Monsieur de Woot confided, had been disappointing. But we mustn't worry: Last week week they captured a wild boar and now that same creature lay before us, sliced and simmering in a platter of brown gravy.
~:~
Château de Waleffe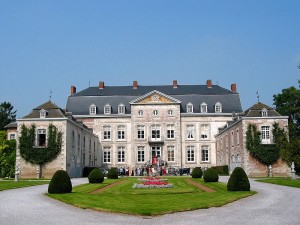 The Baron de Potesta de Waleffe greeted us halfway up the drive to his stately, limestone-washed manor. Located about 30 miles north and a half hour from Liege, Château de Waleffe resembles Château de Jannée and Château de Ramezee. But, the baron wanted us to know, there are important differences. Unlike so many Belgium castles, Château de Waleffe still possesses many original furnishings, dating back to the 18th century.
Leading us through imposing rooms, the silver-haired baron showed us delicate Chinese curios, a rococo armoire, a tortoise shell chest with a secret drawer that once smuggled tulip bulbs from Holland. Then, with boyish glee, he pointed out the brass door locks. They were perfectly preserved, thanks to his mother. She took them off and hid them during World War II, when German soldiers occupied the castle.
But how does one—even a baron educated as an engineer—earn enough money to maintain a place this grand? No sooner did Baron de Potesta de Waleffe put on a new roof than he discovered that his castle also needed gutters. And the utility bills!
When they are home alone, the baron and baroness bundle up in cardigans. But one can't expect guests to do this. "Usually we open only for groups of 25 or more," the baron said. Smaller gatherings simply don't generate enough income to justify turning up the thermostat.
The scent of basil wafted from the dining room. My travelmates and I joined the Baroness de Potesta de Waleffe at the table. With her high white collar, she might have leapt from one of the 19th century portraits on the wall if it weren't for the anachronism of the cell phone beside her crystal goblet. A maid in a crisp black and white uniform brought plates holding two doves nestled like naked Lilliputians between potato patties.
Photo: Baron de Potesta de Waleffe
"The property is me, the house is me, the family, is me. Also, when there is time, I play bridge." ~Baroness de Potesta de Waleffe
Time is limited. Perhaps, the baroness queried, the castle should computerize? But—she worried—how would she ever remember all those complicated commands?
An American visitor from Tennessee, also silver-haired and also wearing an elegant high-collared blouse, offered a suggestion: Use a three-by-five card.
"Ah." Deftly reducing her doves to a pile of delicate bones, the baroness pondered. "Three by five."
I wanted to explain that the note card could be four by six, or even five by eight, but now the baroness was chatting about her grown children, who visit sometimes, and her participation in the church choir.
There was an era when castle dwellers were lofty and prosperous, pampered by servants and pandered to by townspeople. But the baron and baroness—and all the nobility we met—turned out to be folks just like us, sacrificing careers to meet the demands of home and family, struggling to make ends meet, and rushing all too rapidly toward an uncertain future.
When we prepared to leave, the baron shook our hand and the baroness embraced us and, as we walked down the long driveway, the couple stood at the top of the steps, waving.
Then, as though our group of American tourists might really have answers to their dilemmas, the baroness called out across the broad green expanse of the Waleffe estate:
"Three by five?"
---

---
This story originally appeared in the Providence Sunday Journal and other publications.
SHARE THIS PAGE